Craig
Pass Plus
I contacted Tim for a Pass Plus course when another instructor let me down. He's very patient and an excellent instructor who goes through any issues and tells you how to improve on them. I would definitely recommend Tim to anyone who's interested in a Pass Plus or wanting to learn to drive.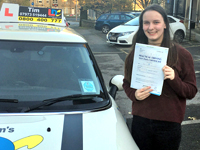 Irina
My lessons with Tim were always very well planned out and catered to me as an individual. He is an extremely patient and supportive instructor, as well as always being reassuring. I found the use of the workbook very useful, as it helped me visualise what was involved and also track my progress. I wouldn't hesitate to recommend Tim as an instructor to anyone.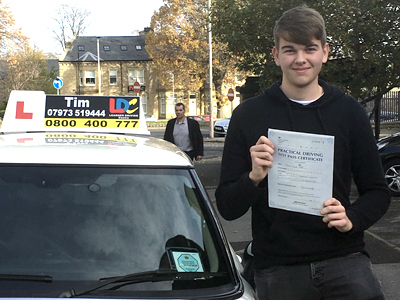 Tom
Tim was incredibly supportive and helpful to me and an excellent driving instructor, helping me pass my driving test at the first attempt. The use of the LDC videos and book provided to me by Tim really helped me in the progression as a learner driver.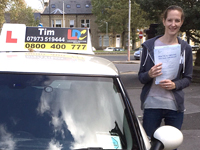 Sarah
Passed 1st time
I passed my driving test 1st time with Tim at the age of 39! I was quite a nervous driver, but Tim was very patient and talked me through everything so I knew exactly what to do. I found the workbook and website good, especially for the Theory Test Practice. I would recommend Tim to anyone, he is professional, punctual and very patient!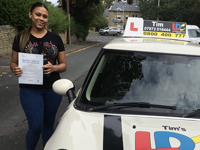 Kersha
Tim was a very good driving instructor and helped me to pass on my first attempt. He was very reassuring and is a lovely guy, I would happily recommend him as a driving instructor.
Georgia
I passed my driving test first time after taking a semi intensive course with Tim and I couldn't have asked for a better instructor. Friendly, professional and patient, I immediately felt at ease and enjoyed learning to drive. Always reliable and punctual, (even spending that little bit longer after each lesson to give constructive feedback) I was aware of the progress I was making and was able to have input in what I wanted to focus on. Even on my off days he always highlighted the positives and never made me feel stupid for asking him a thousand questions and at times overthinking everything. He has a way of simplifying things and has a very calming effect. Would definitely recommend him to anyone who wants to learn to drive!