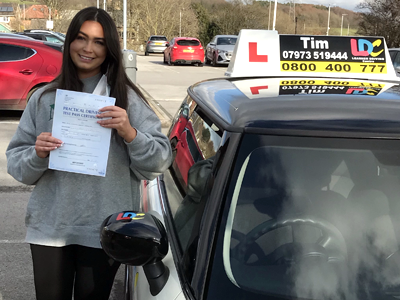 Deanna
First Time Pass
I passed my driving test first time, all thanks to Tim, he is an amazing driving instructor, patient and very reliable. He provides knowledge and important information about each area of driving and explains it clearly. The lessons felt comfortable and I was able to progress at my own pace. I highly recommend :)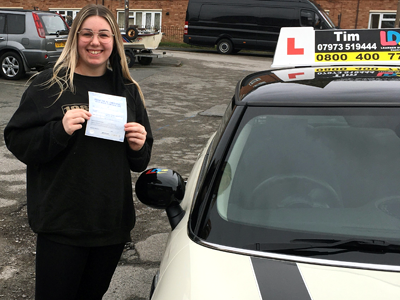 Amelia
After putting off driving lessons for a few years, I'm so happy I chose Tim as my instructor. He has such a kind and patient teaching technique and always made me feel at ease, even on my most anxious days. Tim always worked around my schedule and made learning to drive so easy for me. Thank you so much Tim!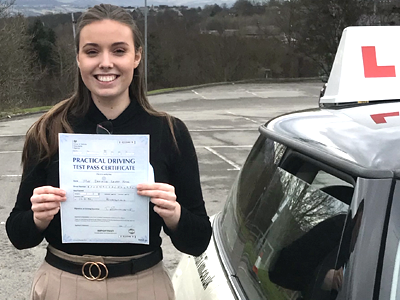 Danielle
First Time Pass
Tim has been a brilliant driving instructor. He was always very patient and put me at ease as I was quite a nervous driver to start with. I went from being very anxious while driving to really enjoying my lessons with Tim, he explained everything so well and allowed me to learn in my own time. He was always willing to answer any questions I had and helped me build my confidence behind the wheel and pass first time. I would definitely recommend having lessons with him!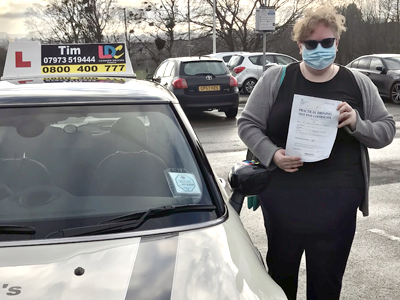 Hanna
First Time Pass
Tim has been great at scheduling my lessons around my shifts and he has been patient and thorough. He made sure to explain situations before we encountered them making lessons less stressful. Tim's calm approach to lessons and good humour makes him a great instructor to learn from. Thanks again for everything Tim.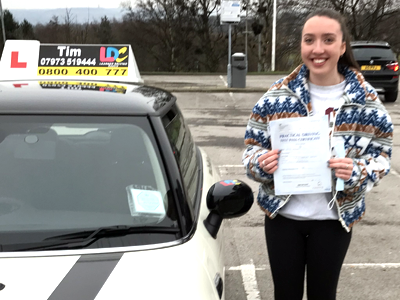 Megan
First Time Pass
Thank you so much to Tim for building my confidence in driving and helping me pass first time! Tim is a kind and patient driving instructor, he makes you feel safe and reassured and is always punctual. The mini is a lovely car to drive and I would highly recommend Tim to any learner.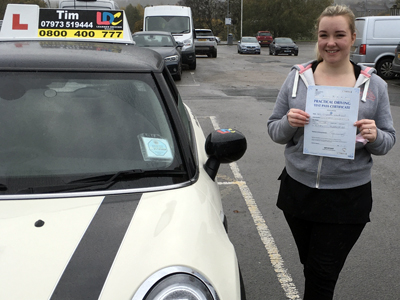 Holly W
Hi Tim, thank you again for helping me pass my test and being very patient, I'm so glad I passed my test after having lessons with you :)
Georga
First Time Pass!
A big thank you to my instructor Tim, he is kind, patient and made me feel at ease straight away. I built confidence quickly with driving and he helped me stay motivated throughout my lessons. I've had a handful of driving instructors over the years but Tim stood out as the best one I had. During unprecedented times with covid, making it almost impossible for me to get regular lessons booked in, Tim went out of his way to fit me into an already busy schedule, he didn't only teach me to pass my test but be the best possible driver I could be.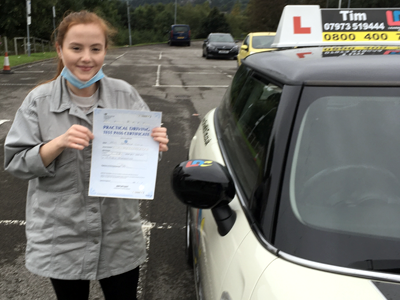 Katherine
Passed 1st Time!
I had a really good experience learning with Tim- he was very patient and understanding during the early stages of learning. I am now able to drive confidently wherever I go, whether that be a new route or driving to work. Would recommend him to any learner wanting more confidence and security on the road!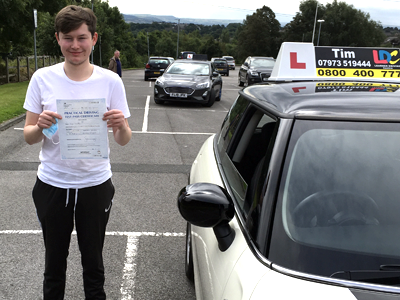 Kyle Smith
First Time Pass!
I would like to say I would 100% recommend Tim as a driving instructor, he was recommended to me when my first driving instructor moved away. I have found Tim to be supportive, helpful and a great driving instructor. He helped me build confidence when driving and gave me constant tips on what to improve on throughout my lessons, which in return helped me pass my driving test first time.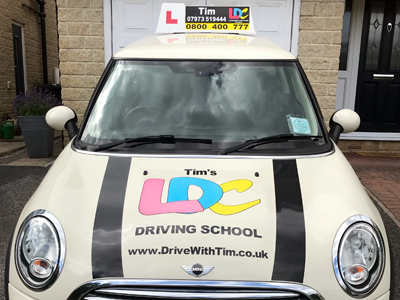 Emma
First Time Pass!
I passed my test first time after being taught by Tim, who is always incredibly patient and positive throughout lessons, always explains things clearly and makes lessons fun. Massive thank you to Tim who I would recommend to anyone learning to drive!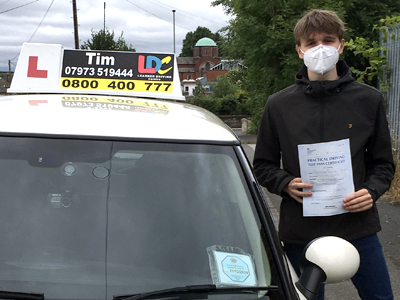 Chris Carter
First Time Pass!
Tim's calm and clear instructions in combination with all the information available in the LDC Driving Skills workbook meant that I could not have been better prepared when it came to taking my driving test.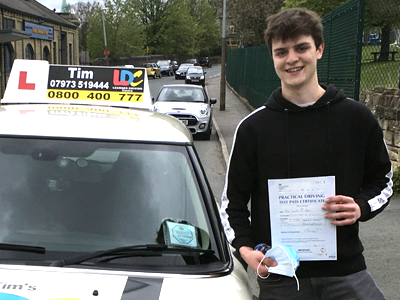 Lewis Neal
First Time Pass
I took an intensive week of lessons with Tim, we did about 5-6 hours a day for 7 days. The lessons themselves were very interesting, he taught me everything I would need to know about driving and by the end of my lessons I felt prepared and confident to take the test, which I passed First Time thanks to Tim.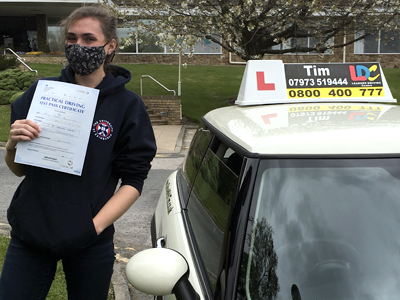 Sophie B
First Time Pass!
Tim was very friendly and accommodating. He seemed completely dedicated to helping me learn and improve my driving skills, not purely focussed on passing my test but teaching me how to drive properly. I would definitely recommend Tim as a driving instructor.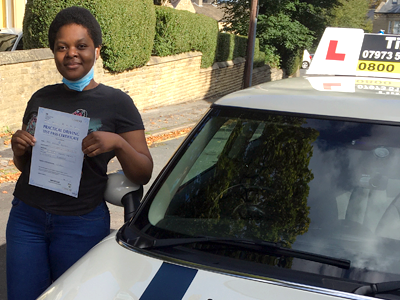 Patience
I passed my driving test with help from Tim. Tim has been very patient and encouraging throughout our lessons. I always knew what progress I was making and what I needed to improve on. He also provided lots of resources for both theory and practical test, which helped me and calmed down my nerves. I highly recommend having lessons with Tim.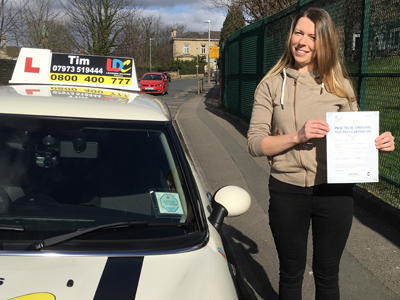 Sophie
I'm so pleased I've just passed my driving test. I would like to say a big thank you to my driving instructor Tim for all his help and patience. I started out as a really nervous driver and Tim helped me feel at ease as we worked together to build my confidence and skills up on the road. I couldn't have asked for a better driving instructor, every lesson was great progress and such a pleasure to do! Thank you Tim.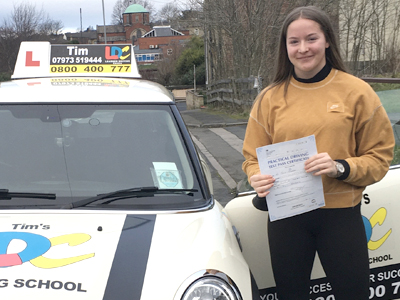 Anna
Tim is very patient, calm and easy to get along with. Overall a great instructor!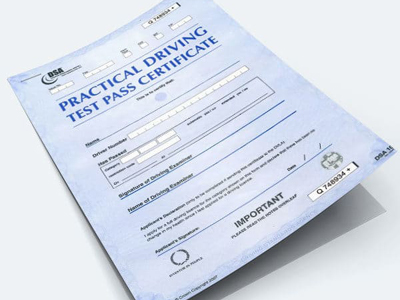 Michelle
Tim is a great driving instructor and really helped me pass. As a first time driver he took his time to explain things and is very patient with the entire learning process. Tim has improved my confidence on the road as well. Learning to drive seemed particularly difficult to me, but Tim has always motivated me in my lessons and he noticed anywhere I needed improving on and so we spent more time on those areas. The lessons were well suited to my learning needs and made me feel extremely prepared for my test. Overall a great instructor!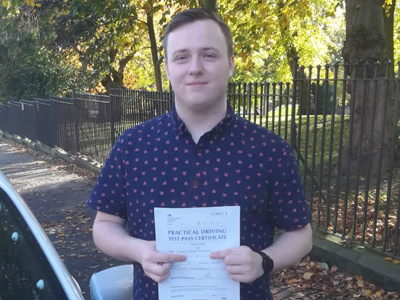 Josh
Passed 1st Time!
I chose Tim because a friend recommended him and I'm very pleased that I did. I managed to pass first time and would definitely recommend to anyone else. 10/10.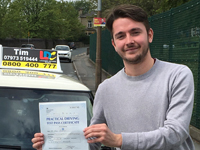 James
A big thank you to Tim for helping me pass. Lessons were always well structured which helped me continually develop. I was nervous at first but Tim is very calm which is a massive benefit as it makes you feel at ease behind the wheel.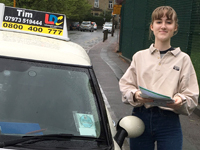 Holly
Passed 1st time
Tim has a really good style of teaching which made me feel at ease and comfortable in attempting new things, and also adjusted his teaching style to what suited me best at different times which was very helpful. He gave me options for what we could do in lessons which made it a lot more tailored to me and what I needed to work on personally which I found useful.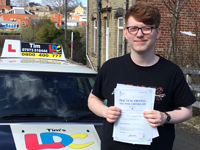 Bradley
My lessons with Tim were always well structured and I always knew what I had to do to improve. I really enjoyed my lessons, he's incredibly supportive and always listens to your side of a decision. Would really recommend him to anyone.
Kathryn
First Time Pass!
I'd been dreading learning to drive, but I was quickly put at ease behind the wheel. Each lesson was well structured with a definite sense of progression every week and lots of encouragement. They were also good fun. I never felt that I was being pushed too quickly but was encouraged to develop my driving skills at my own pace, and the feedback during and after each lesson was invaluable. I couldn't have asked for a better instructor.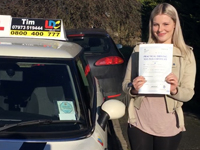 Jessica
A massive thank you to Tim for teaching me to drive. I am a very nervous person but he always made me feel at ease on all my lessons and made them enjoyable learning new things each time. Would definately recommend to anyone wanting to start their driving lessons!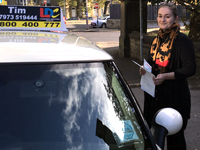 Hailey
1st Time Pass
I'm so glad I chose to learn with Tim. He was always friendly, patient and caring. I was an anxious driver but Tim helped keep me calm and really helped me to build my confidence on the road. Arranging lessons around my full time work was easy and Tim was very accommodating by doing evening and weekend slots. I would recommend him to anyone.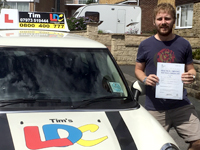 Stefan
I really enjoyed my lessons with Tim. He's very patient and easy to get along with. I found his instructions to be helpful and easy to follow allowing me to pick up essential driving techniques quickly.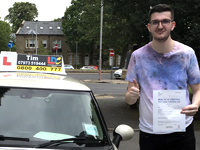 George
Having Tim as my instructor was the best thing about every lesson. Expect someone who is attentive, patient and wants the best for his students, as well as having a great sense of humour when it counts. It took me two attempts to pass my practical, but through the help Tim gave me, he made sure to tell and show me when I had done things wrong. I must not forget to mention the blackboard and pens as you may see them a lot, or at least I did. He always listens to you and likes to hear your side of a decision that you made, in order to talk over and evaluate what you could do next time. Tim has made me a better driver, as even now after I've passed I can still hear his advice when certain events arise.
Craig
Pass Plus
I contacted Tim for a Pass Plus course when another instructor let me down. He's very patient and an excellent instructor who goes through any issues and tells you how to improve on them. I would definitely recommend Tim to anyone who's interested in a Pass Plus or wanting to learn to drive.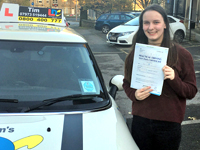 Irina
My lessons with Tim were always very well planned out and catered to me as an individual. He is an extremely patient and supportive instructor, as well as always being reassuring. I found the use of the workbook very useful, as it helped me visualise what was involved and also track my progress. I wouldn't hesitate to recommend Tim as an instructor to anyone.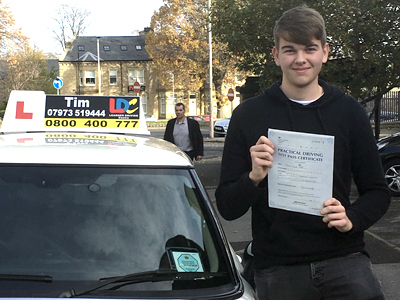 Tom
Tim was incredibly supportive and helpful to me and an excellent driving instructor, helping me pass my driving test at the first attempt. The use of the LDC videos and book provided to me by Tim really helped me in the progression as a learner driver.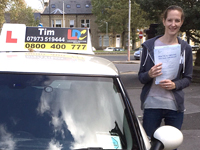 Sarah
Passed 1st time
I passed my driving test 1st time with Tim at the age of 39! I was quite a nervous driver, but Tim was very patient and talked me through everything so I knew exactly what to do. I found the workbook and website good, especially for the Theory Test Practice. I would recommend Tim to anyone, he is professional, punctual and very patient!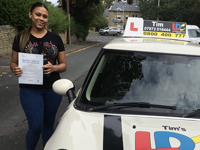 Kersha
Tim was a very good driving instructor and helped me to pass on my first attempt. He was very reassuring and is a lovely guy, I would happily recommend him as a driving instructor.
Georgia
I passed my driving test first time after taking a semi intensive course with Tim and I couldn't have asked for a better instructor. Friendly, professional and patient, I immediately felt at ease and enjoyed learning to drive. Always reliable and punctual, (even spending that little bit longer after each lesson to give constructive feedback) I was aware of the progress I was making and was able to have input in what I wanted to focus on. Even on my off days he always highlighted the positives and never made me feel stupid for asking him a thousand questions and at times overthinking everything. He has a way of simplifying things and has a very calming effect. Would definitely recommend him to anyone who wants to learn to drive!